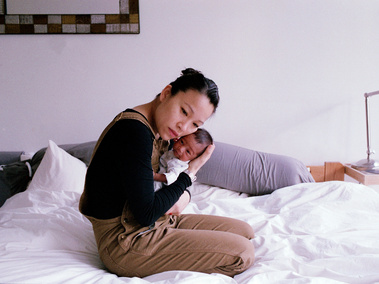 Michelle is Canadian photographer now focused on cinematography in the UK.
For over eight years, she has worked as a photojournalist and portrait photographer often focusing her lens on themes of race, community and cultural identity with an interest in social justice. Her project on Thalidomide survivors contributed to changing legislation and compensation for victims in Canada. She is drawn to using her camera to find beauty within difficult stories.
Michelle is now evolving her visual language into cinematography. She is pushing her imagination, creativity and technical skills by looking for Second Assistant Camera and Camera Trainee roles on HETV and feature films. While also pursuing short film projects that allow her to look inward to reflect her experiences as a woman, new mother and daughter of immigrant parents. The theme of home and belonging resonate within her deeply.

Michelle has a long-standing love for analogue photography which now extends into film projects. She respects artists who create openly, with authenticity and to those who carefully consider the impact of their work.
She is a proud member of Diversify Photo and Women Photograph.
SELECT ACCOLADES:
2020 Winning DoP- ARRI Filmmaking Challenge-Watersprite Film Festival
2020 Winning Director-NAHEMI Kodak 16mm Film StudenCompetition
2019 Aesthetica Short Film Festival - NAHEMI Showcase"Creative Visions"
2019 Joop Swart Masterclass- World Press Photo Awards- Nominated
2017 & 2016 Magenta Foundation Flash Forward winner
2015 Photograph of the Year, Canada's National Pictures of the Year
2014&2015 Canada's Photojournalist of the Year, nominated
2015 Pictures of the Year International Award of Excellence- Feature Picture Story
2015 NPPA Best of Photojournalism- First Place, Portrait and Personality
2015 National Newspaper Awards Project of the Year
2014 Lens Culture's Emerging Talent Award
FILM/PHOTO INDUSTRY TRAINING
2023 Sara Putt Associates Trainee Scheme
2023 Becoming A Camera Trainee: Intensive hands-Samara Addai & Lou Macnamara
2022 Davinci Resolve certificate short course
2017 Ed Kashi, Vii Photo Agency & Jim Estrin, New York Times mentorship program
2017 + 2015 New York Times portfolio review

2014 Missouri Photo Workshop + Scholarship

2014 Foundry Photojournalism Workshop + Scholarship , Guatemala
2012 Eddie Adams Workshop, New York