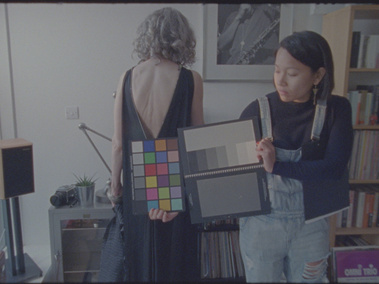 Michelle is a Canadian freelance photojournalist transitioning into cinematography in London, UK.

In 2021, she completed an MA in Film Production at Anglia Ruskin University while becoming a mother.
As a filmmaker she is currently looking for cinematography/camera operating work.
As a photojournalist she has a focus on using portraiture and long-form photo essays often with themes of identity and home. Her work has appeared in The New York Times, Time.com, Discovery Channel and Der Spiegel amongst others.
To get in touch about a project, commissioned work or collaboration contact:
+44 7908 050010
C/V
RECOGNITION
2020 Winning Cinematographer ARRI Filmmaking Challenge-Watersprite Film Festival

2020 Winning Editor- 2020 Canon NAHEMI Extraordinary Times Covid19 Challenge
2020 Winning Director NAHEMI Kodak 16mm Film Student Commercial Competition- Best Overall, Best Cinematography, Best in Brief
2020 Winner Photojournalist/Writer - Best Arts & Culture Storytelling & Photo Story Digital Publishing Award
2019 Aesthetica Short Film Festival - NAHEMI Showcase featuring "Creative Visions" short

2019 Nominated Photojournalist- Joop Swort Masterclass

2016 Magenta Foundation Flash Forward Emerging Photographer- -Selected Photographer

2017 Magenta Foundation Flash Forward Emerging Photographer- Selected Photographer
2015 Canada's Photojournalist of the Year (honorable mention)
2015 Pictures of the Year International Award of Excellence, Feature Picture Story- Photojournalist

2015 NPPA Best of Photojournalism- First Place, Portrait and Personality
2015 NPPA Best of Photojournalism, Best Published Picture Story
2015 Photograph of the Year, National Pictures of the Year
2015 First Place Portrait, National Pictures of the Year

2015 First Place Picture Story, National Pictures of the Year
2015 American Photography 31- selected photographer

2015 Michener Award for excellence in Canadian public service journalism
2015 Magenta Foundation Flash Forward Emerging Photographer- Selected Photographer
2015 National Newspaper Awards Project of the Year - project contribution
2015 PDN Photo Annual- selected photographer

2014 LensCulture's Emerging Talent Award- winning photographer

2014 UNICEF Photo of the Year nominee
2014 Canada's Photojournalist of the Year- honorable mention
2014 Picture Story 1st Place, National Pictures of the Year
2014 Social Issues 2nd Place, National Pictures of the Year
2012 Sony World Photography Awards, "Campaign" photo series top 10 shortlisted
2012 Tom Hanson Photojournalism Award winner/The Canadian Press Intern
VISUAL ARTS EDUCATION
2021 MA Film and Television Production, Anglia Ruskin University, UK
2017+ 2015 New York Times portfolio review, selected participant
2014 Missouri Workshop Team Eppridge Award
2014 Foundry Photojournalism Workshop alumni + scholarship recipient
2012 Eddie Adams Workshop, alumni 

2010 Loyalist College- Photojournalism Diploma (one term)

2006 BA Media Studies, University of Guelph-Humber
GRANTS
2018 APAD Backyard Storytelling Grant- top 4 short listed
2015 Ontario Arts Council Emerging Visual Artists Grant
2015 Economic Hardship Reporting Project, photojournalism grant recipient 2015
2015 Photocrati Fund photography grant, honorable mention
2014 APA/Lucie Foundation Scholarship, photography grant shortlist

GROUP EXHIBITION
2017 VICE annual photo show, Montreal & Toronto
2017- Contact Photography Festival Feature Show
2017 Magenta Foundation Flash Forward Exhibition
2017 Museum of Drug Policy exhibition2017 Working Title- Personal Work
2016 Magenta Foundation Flash Forward Exhibition
2015 Photovile's The Fence—Brooklyn, Atlanta and Houston
2015 Magenta Flash Forward Exhibition